Main information:
Höchstädt Palace – History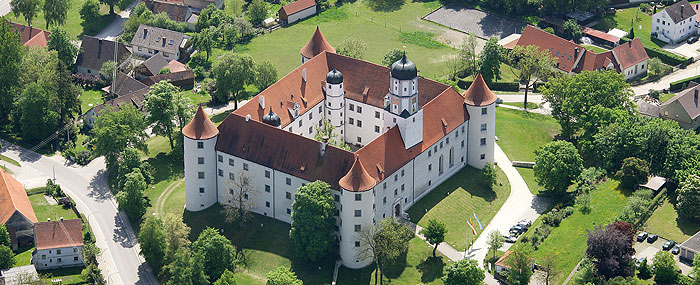 Höchstädt Palace is one of the most outstanding monuments of the former principality of Pfalz-Neuburg. It was built when Count Palatine Philipp Ludwig von Neuburg married the duke's daughter Anna von Jülich-Kleve-Berg in 1574. In the marriage contract the count undertook to have an appropriate widow's seat built for his wife.
In 1589-1603 masons from Grisons under the supervision of Gilg Vältin erected a symmetrical new building in the late Renaissance style from plans by the Burglengenfeld architect Lienhart Grieneisen. The Gothic tower of the preceding castle was incorporated in this building as the bell tower.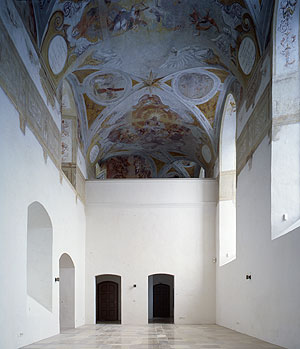 Palace chapel, paintings on the vault by
Mang Kilian, 1601
Duchess Anna lived from 1615-1632 as a widow in Höchstädt. Whereas her son Wolfgang Wilhelm Pfalz-Neuburg reconverted to Catholicism for political reasons, she kept her Protestant faith. This is reflected by the paintings on the vault of the palace chapel, some of the finest evidence of southern German Protestantism before the Counter Reformation.
Subsequently the palace was used for lesser purposes. It is for this reason, however, that it has retained much of its original character as a late Renaissance princely seat. In the last few years it has been comprehensively restored and is also used by the District of Swabia (Bezirk Schwaben) for special exhibitions. A room on the 2nd floor provides information about the building history and uses of Höchstädt Palace, illustrated with historic exhibits.